About KVO
The organization
Started on 26th December, 1998, "Dungarshi Tokarshi Vora Vividhlakshi Sankul" started by "Kachchhi Visa Oswal Jain Mahajan, Bhuj" has been like a heartbeat for people in the field of social responsibilities. And today, with the guidance of Mr Tarachand Chheda, the president of KVO Jain Mahajan- Bhuj, it is being more and more progressive.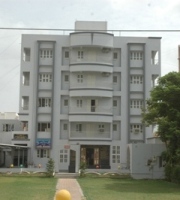 At the organization campus, medical and dental checkups for patients are held. In addition, 24-hours free oxygen cylinder facility is also provided by the organization. KVO also encourages people for eye donation and body donation.
The organization also facilitates people with accommodation services at the campus for reasonable charges. The campus also contains facilities like a dining hall, library, dental checkup centre, X-Ray centre, medical laboratory, ambulance facility etc.
KVO is an organization which runs on a principle of "Sarvadharma Sambhaav" which means KVO helps people from all religions. Poojan and Anushthaan are organized regularly at the organization campus. Proper care is taken for Jain Monks who arrive at "Aradhana Bhavan". Gyaangoshti Shibir, Dharmik Parisamwaad is also arranged by KVO. The organization also arranges anti-addiction camps in schools of Kutch on Rajat Jayanti. In addition, KVO has also organized camps for AIDS, thalassaemia in the city.
Ambaji Mandir at Bhuj is also managed by KVO. The organization arranges Maha Aarti and Hawan Vidhi during Navratri Mahotsav every year.
KVO is also helpful to other organizations of the city when they need.
"SAKHI-VRUND" - Lady Power of KVO
Ladies of this community also take part in social activities. Training of different cooking recipes is given to the ladies of the community; and cooking competitions are also held. In addition, best out of waste, sewing wool, beauty treatment etc are arranged by Sakhi Vrund. They have arranged drawings and crafts competition for children of the community and every Saturday, an arrangement of Paathshala is done by Sakhi Vrund.
"YUVA-PAANKH" - Young people at the organization
Youngsters of the community are also pleased to work for the society. They arrange blood donation camps and medical camps for the organization. Yuva Pankh members are always glad to be with other community people in their good or bad times. In addition, they also organize picnic and Patangotsav(Kite Flying Competition) for the community.